'MUSIC' Wins Berlinale Silver Bear for Best Screenplay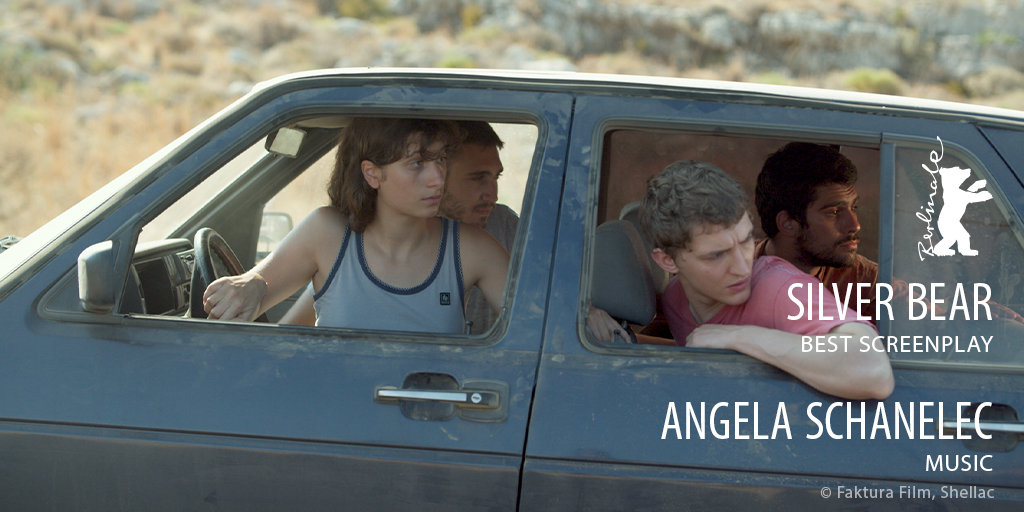 Having already won a Silver Bear for Directing, the German New Wave auteur Angela Schanelec returns to the Berlin International Film Festival, leaving it this time with the Silver Bear for Best Screenplay for Main Competition title, 'MUSIC'.
"…𝘪𝘯 𝘵𝘩𝘪𝘴 𝘴𝘤𝘪𝘯𝘵𝘪𝘭𝘭𝘢𝘵𝘪𝘯𝘨 𝘦𝘹𝘢𝘮𝘱𝘭𝘦 𝘰𝘧 𝘧𝘪𝘭𝘮'𝘴 𝘶𝘯𝘤𝘢𝘯𝘯𝘺 𝘢𝘣𝘪𝘭𝘪𝘵𝘺 𝘵𝘰 𝘵𝘳𝘢𝘯𝘴𝘤𝘦𝘯𝘥 𝘪𝘵𝘴𝘦𝘭𝘧, 𝘵𝘰 𝘰𝘱𝘦𝘳𝘢𝘵𝘦 𝘰𝘯 𝘱𝘭𝘢𝘯𝘦𝘴 𝘢𝘣𝘰𝘷𝘦, 𝘣𝘦𝘭𝘰𝘸 𝘢𝘯𝘥 𝘪𝘯 𝘣𝘦𝘵𝘸𝘦𝘦𝘯 𝘵𝘩𝘦 𝘪𝘮𝘢𝘨𝘦𝘴 𝘢𝘯𝘥 𝘴𝘰𝘶𝘯𝘥𝘴𝘤𝘢𝘱𝘦𝘴 𝘰𝘧 𝘸𝘩𝘪𝘤𝘩 𝘪𝘵 𝘪𝘴 𝘤𝘰𝘮𝘱𝘰𝘴𝘦𝘥."
" 𝘧𝘦𝘸 𝘰𝘧 𝘶𝘴 𝘸𝘪𝘭𝘭 𝘩𝘢𝘷𝘦 𝘵𝘰 𝘳𝘦𝘴𝘪𝘴𝘵 𝘵𝘩𝘦 𝘶𝘳𝘨𝘦 𝘵𝘰 𝘧𝘢𝘭𝘭 𝘪𝘯 𝘢𝘸𝘦 𝘢𝘵 𝘵𝘩𝘦 𝘧𝘦𝘦𝘵 — 𝘣𝘭𝘰𝘰𝘥𝘪𝘦𝘥 𝘰𝘳 𝘣𝘢𝘵𝘩𝘦𝘥 — 𝘰𝘧 𝘸𝘰𝘳𝘬 𝘭𝘪𝘬𝘦 𝘵𝘩𝘪𝘴, 𝘵𝘩𝘢𝘵 𝘪𝘯𝘴𝘪𝘴𝘵𝘴 𝘰𝘯 𝘤𝘪𝘯𝘦𝘮𝘢 𝘢𝘴 𝘢 𝘮𝘺𝘴𝘵𝘦𝘳𝘺 𝘵𝘰 𝘣𝘦 𝘮𝘢𝘳𝘷𝘦𝘭𝘭𝘦𝘥 𝘢𝘵, 𝘳𝘢𝘵𝘩𝘦𝘳 𝘵𝘩𝘢𝘯 𝘢 𝘳𝘪𝘥𝘥𝘭𝘦 𝘵𝘰 𝘣𝘦 𝘴𝘰𝘭𝘷𝘦𝘥."
Variety
Music is about a boy who grows up with his step-parents in Greece, when at the age of twenty he unwittingly becomes the murderer of his natural father. He is sent to prison, where he falls in love with a woman who works there. Neither of them suspect that she is his mother. When he is released from prison, they live together and have a daughter.
The film is written and directed by: Angela Schanelec and produced by Faktura Film and co-produced by Les Films de l'Après-Midi and Heretic.